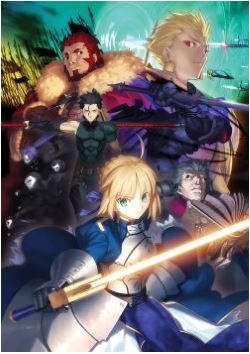 Volume: Vol. 1
SKU #: AOA-2303B
UPC code: 850527 003288
Release Date: 10/25/2016
SRP: $187.98
Retail Price: $149.98

SOLD OUT
Fate/Zero
LIMITED EDITION Blu-ray Box Set I

(Sale for US and CANADA ONLY, Limited quantity)

The story starts from zero, a beginning…

The Holy Grail War -in this ultimate battlefield, in order to obtain the power of the "Holy Grail" that makes one's unattainable wish a reality, seven "masters" summon "servants" and fight against each other until only one survives….

After three inconclusive Holy Grail Wars, the fourth battle has finally begun. Hoping to win the battle, each master heads towards the new battlefield, the city of Fuyuki. Among the seven masters, there is Kirei Kotomine, confused and struggling; he is unable to find a meaning for fighting in this war. Soon enough, he encounters his archrival Kiritsugu Emiya, a master who craves for the Holy Grail's miracle most of all.

◆

Disc Spec


■ Spoken Languages: Japanese & English
■ Subtitles: English and Spanish (* OP/ED themes and Bonus English subtitles only)
■ Aspect Ratio: 16:9 widescreen
■ Episodes: Episodes 1- 13
■ Number of Disc: 5 Discs (3 BD discs + 1 DVD + 1 CD)
■ Total Run Time: approx. 330 min.
■ Rating: 13 UP



◆

BONUS CONTENTS


■ Trailer & PV Collections
■ 1st Season Textless Opening & Ending



◆

Bonus Materials & SPECIAL PACKAGE


■ BONUS CD: Original Soundtrack 1 (by Yuki Kajiura)
■ BONUS DVD: Exclusive Staff Interviews (Director, Producers)
■ Deluxe Booklet
■ Rigid Box illustrated by TAKASHI TAKEUCHI (TYPE-MOON)
■ Clear BD Cases with 2-sided Wraps


*Bonus materials subject to change.